Stay up-to-date on all of our latest specials, events, and promotions by subscribing to the Blue Ridge Dermatology newsletter!
 Embrace November's Beauty Journey! 
As we welcome a new season, we invite you to embark on a journey of self-care and well-being. This November, discover the simple joy of nurturing your skin.
 A Gift of Beauty: Explore our November Promotion, the Morpheus Trio Delight. Purchase two Morpheus treatments and savor the magic of a third treatment FREE! It's your opportunity to refresh your skin, bidding adieu to fine lines, wrinkles, and imperfections.
 A Gift of Radiance: To enhance your skincare experience, we're delighted to gift you a Revision Skincare DEJ Age Defying Power Regimen (valued at $279). It's a token of our commitment to helping you look and feel your best.
Your path to beauty begins here. To embrace this exclusive November offer, simply schedule your Morpheus treatments with us. Let this season be a time of renewal, inside and out.
  Learn more about Morpheus8
🌟 Join Us for an Exclusive Open House Event! 🌟
Dear Cary, NC Community,
We're excited to invite you to an unforgettable evening at our Cary, NC, location! Join us for our Open House Event on November 29th from 5:30 PM to 7:30 PM, located at 11110 SE Cary Pkwy, Suite 100, Cary, NC 27518.
Event Highlights:
🌟 Mini Consultations: Meet our experts! Amanda Haught, BSN, RN, Master-Level Aesthetic Injector, and Haley Darden, LE, Licensed Medical Aesthetician, will be providing complimentary 10-minute mini-consultations from 6:00 PM to 7:00 PM. Discover personalized insights and answers to your skincare questions.
💫 Champagne & Snacks: Sip on Champagne and savor delicious snacks as you mingle and enjoy the evening.
RSVP & Mini Consultation Reservations:
To ensure we have everything prepared for you, please RSVP for the event. If you'd like a mini consultation with our experts, be sure to secure your time slot in advance.
🌟 RSVP Below 🌟
Don't Miss Out:
This is an exceptional opportunity to connect with our team, learn about the latest in aesthetics, and explore how we can help you look and feel your best. We can't wait to see you there!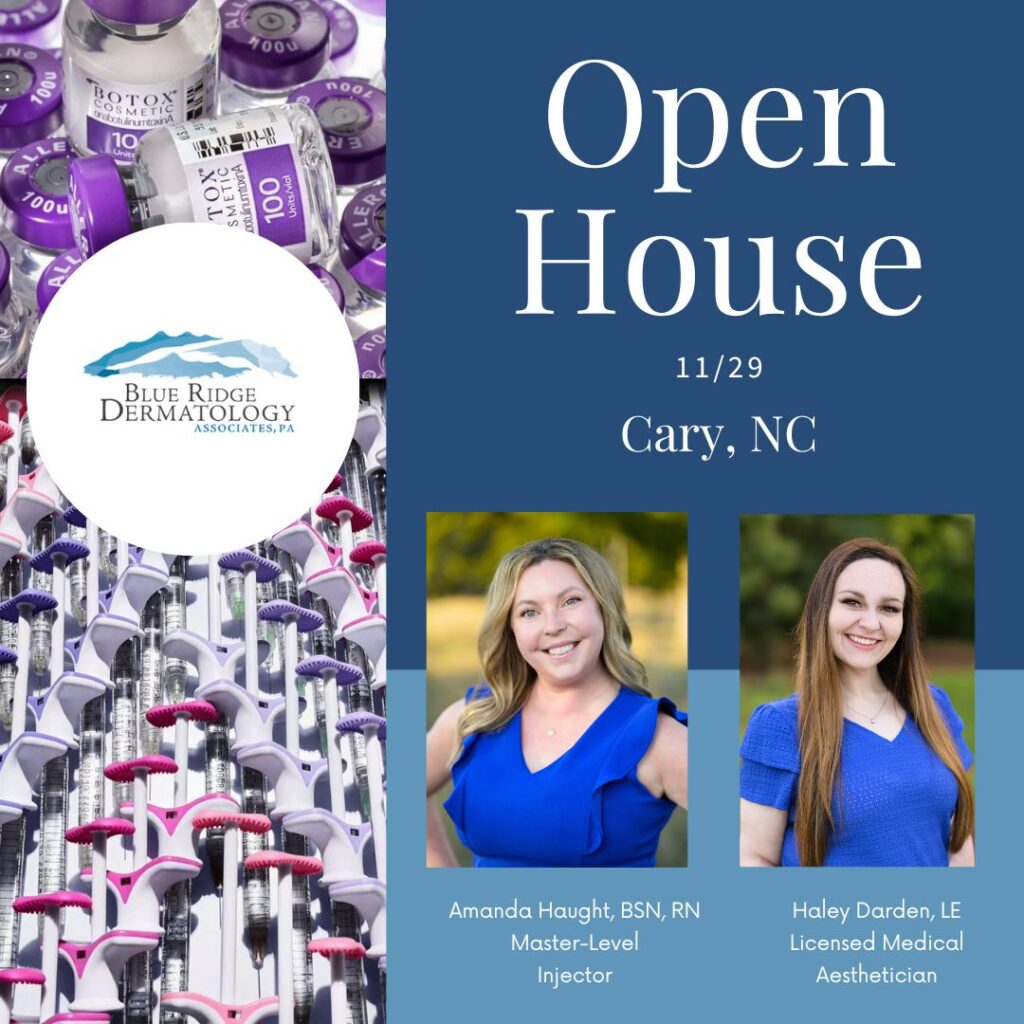 🌟 Get Ready to Celebrate Botox Day: November 15th, 2023! 🌟
Mark your calendars because Botox Day is just around the corner!
What's in Store?
🎁 Gift Card Extravaganza: On Botox Day itself (November 15th), when you purchase one $50 gift card through the Allē website, we'll generously gift you another one for FREE! It's the perfect opportunity to treat yourself or share the gift of beauty with someone special.
🌐 Double Allē Points: Throughout the entire month of November (from November 1st to 30th), you can earn DOUBLE Allē Points when you get treated through the Allē website. That means extra rewards for your beauty treatments!
💰 Win Big: By getting treated in November (November 1st to 30th) through the Allē website, you'll also have the chance to be one of FIVE lucky winners to receive a fantastic $25,000 prize! Yes, you read that right—$25,000 could be yours!
Please note: You must be an Allē member to take advantage of this promotion. Not an Allē member? Please scroll to the bottom of this newsletter to find our Allē link information.