The Juvederm Collection of HA dermal fillers provides various options to restore volume and vital components of your facial structure lost due to aging.
Juvederm
Voluma
Vollure
Volbella
Dermal fillers are a popular cosmetic procedure used to replace lost volume and smooth out wrinkles and fine lines.  These fillers are made from a variety of materials, with the most common being hyaluronic acid or HA.  This naturally occurring substance is found in large amounts throughout the body and is responsible for keeping the skin hydrated and plump.  As we age, our body's production of hyaluronic acid decreases, leading to the formation of wrinkles and fine lines.  Injectable dermal fillers made of hyaluronic acid work by replenishing the skin's natural levels of this substance, restoring its youthful volume and smoothness.
Each year, there are over
Million treatments in the US
HA (hyaluronic acid) makes up
of the filler market in the US.
Expert Dermatology Care for the Entire Family

Juvederm is a trusted and FDA-approved dermal filler that uses hyaluronic acid to add volume and reduce the appearance of fine lines, wrinkles, and facial folds. Whether you want to plump your lips, smooth out nasolabial folds, or restore volume to your cheeks, Juvederm can provide natural-looking results that enhance your facial features. Our skilled dermatologists will assess your unique needs and customize a treatment plan to deliver the desired outcome.
Due to the increased demand for dermal fillers like Juvederm, there has been a growth in the options available to medical professionals and patients.  Currently, Juvederm has several lines of fillers, each uniquely developed to treat specific areas and concerns of the face. 
Juvederm Options:
Juvederm Volux:  This is the latest product in the Juvederm line.  This product has been specifically designed to enhance the jawline and restore more youthful proportions in the lower face. 
Juvederm Voluma: This filler is designed to add volume to the cheeks and restore a youthful, lifted appearance to the face.
Juvederm Vollure: This filler is designed to smooth out moderate to severe wrinkles and fine lines around the nose and mouth.
Juvederm Volbella: This filler is designed to enhance the lip area.  It is a smooth, soft filler used to reduce fine lines around the mouth while enhancing the overall lip region.
Juvederm Ultra and Ultra Plus: These fillers are designed to smooth out moderate to severe wrinkles and fine lines.
The Juvederm treatment process is performed by our Master-Level Injector, Amanda Haught, BSN, RN, in our aesthetic center.  The process can take anywhere from 15 – 45 minutes depending on the areas that are being treated.  We offer local anesthetic or topical numbing cream for our patients, plus the Juvederm products have lidocaine in them, which helps to reduce discomfort during the treatment.  The procedure is minimally invasive, and patients can resume their day after the treatment is performed. 
Like any injectable procedure, there are risks associated with Juvederm treatment.  The most common side effects we see at Blue Ridge Dermatology include swelling, pin-point bruising, and redness at the injection site, which typically resolve within a few days.  If you are concerned about potential risks, you should ensure that the medical practice and injector are experienced professionals.  Our Master-Level Aesthetic injector has years of experience treating individuals like you with Juvederm.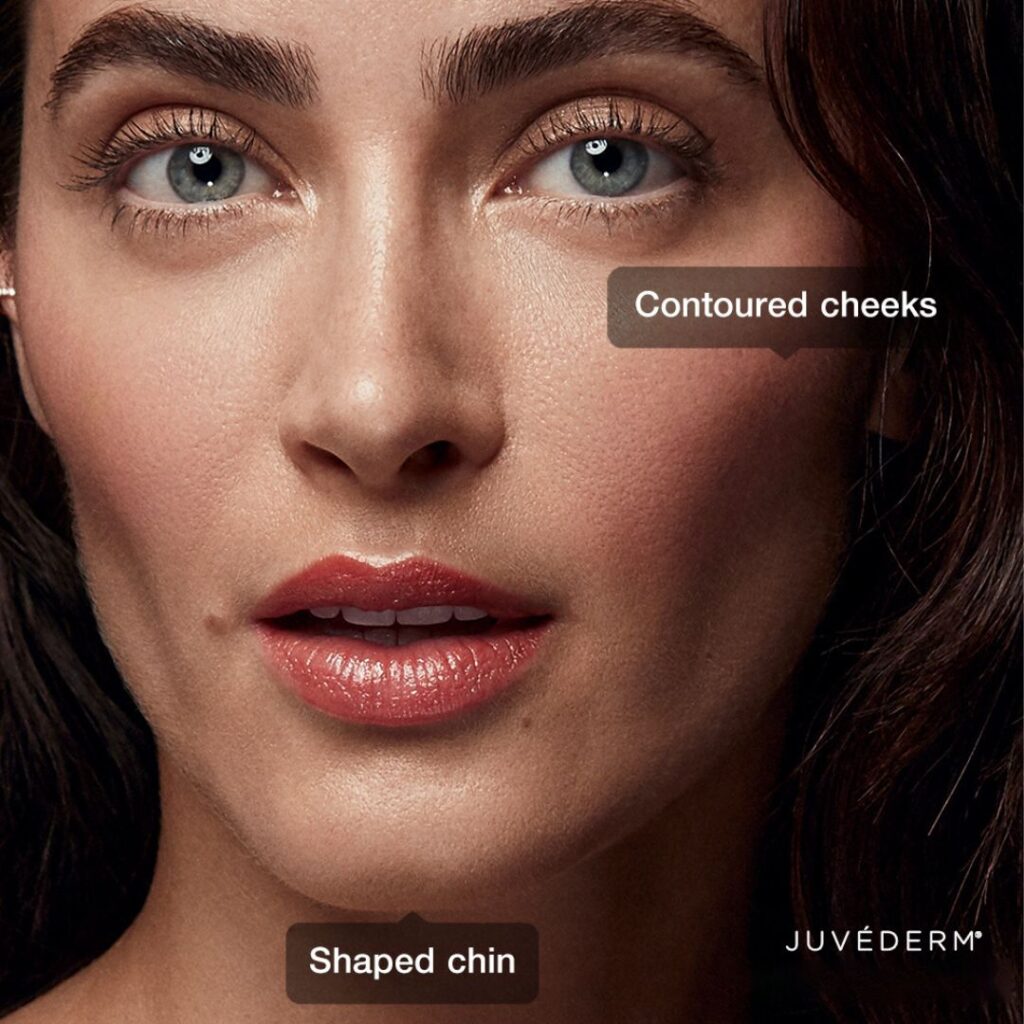 Expert Dermatology Care for the Entire Family

One of the advantages of Juvederm is its ability to provide a natural-looking result.  The hyaluronic acid in Juvederm is similar to the hyaluronic acid naturally found in the skin, and the formula is designed to mimic the skin's natural texture and movement.  This makes the results of Juvederm treatment look and feel natural, and minimizes the risk of unnatural-looking "lumps" or "bumps."
Another advantage of Juvederm is its longevity.  Depending on the type of Juvederm used, the results can last anywhere from 6 months up to 24 months.  This makes Juvederm a convenient option for those looking to maintain a youthful appearance without undergoing frequent treatments.
Where can Juvederm be used?
Juvederm fillers can be used in various areas of the face to address specific concerns and enhance your natural beauty. Here are some common areas where Juvederm fillers are typically used:
Lips: Juvederm can be used to enhance volume and definition in the lip area, creating a fuller and more youthful appearance. It can help achieve natural-looking results, whether you desire a subtle enhancement or more pronounced lip augmentation.
Nasolabial Folds: These are the lines (or folds) that run from the sides of the nose to the corners of the mouth, usually referred to as "parentheses." Juvederm fillers can effectively smooth out these lines, restoring a smoother and more youthful appearance to the mid-face area.
Marionette Lines: These lines (or folds) extend from the corners of the mouth down toward the chin/jawling, creating a sad or tired expression. Juvederm can be used to soften these lines and restore a more lifted and rejuvenated look to the lower face.
Cheeks: Juvederm Voluma, specifically designed for cheek augmentation, can restore volume and contour to the cheeks, providing a subtle lift and rejuvenation to the mid-face area.
Jawline and Chin: Juvederm fillers can be used to enhance the definition and contour of the jawline and chin. It can help create a more balanced and harmonious facial profile.
Under-Eye Hollows and Tear Troughs: Juvederm can be used to fill in hollow areas or depressions under the eyes, reducing the appearance of dark circles and improving the overall smoothness and youthfulness of the under-eye area.
Expert Dermatology Care for the Entire Family
Expertise in Facial Anatomy

At Blue Ridge Dermatology, we understand that facial aesthetics are important, and we offer Juvederm fillers to help you achieve your desired look.  Our expert injector, Amanda Haught, BSN, RN, possesses a deep understanding of facial anatomy, enabling her to provide customized treatments that consider your individual facial structure and features.
With precise and targeted injections, we can enhance your natural beauty and deliver results that look incredibly natural.  Juvederm fillers are an excellent choice for adding volume, reducing the appearance of fine lines and wrinkles, and restoring youthful contours.  If you're considering Juvederm, we invite you to schedule a consultation with us today and allow us to assess your needs and recommend the most suitable treatment plan for you.