Hair loss, a common concern affecting both men and women, can significantly impact self-confidence and overall well-being. Our dermatology experts are dedicated to providing personalized solutions, from identifying the underlying causes to offering effective treatments and preventive measures to help you restore and maintain healthy hair growth.
We Treat Hair Loss in
Men
Women
Hair loss, also known as alopecia, affects millions of people in the US, impacting both men and women across various age groups.  It is a prevalent issue that can significantly affect self-esteem and quality of life for those affected by hair loss.  Learn more about the causes, treatments, and prevention methods for hair loss below to help you better understand and manage this condition.
of women experience androgenetic alopecia
men experience some degree of hair loss
Expert Dermatology Care for the Entire Family

Hair loss can manifest in various forms, ranging from gradual thinning to complete baldness.  Hair loss can be transient or permanent, depending on the underlying cause.  There are several reasons an individual may experience hair loss.  Some of the most common reasons are as follows:
Androgenetic alopecia: Commonly known as male-pattern or female-pattern baldness, this hereditary form of hair loss typically occurs in a predictable pattern as you age.
Telogen effluvium:  This diagnosis is a temporary form of hair loss triggered by stress, illness, or hormonal changes.
Alopecia areata: This autoimmune condition can cause patchy hair loss, particularly on the scalp, but can also affect other areas of the body.
Traction alopecia: Hair loss caused by excessive tension or pulling on hair strands, often due to certain hairstyles or hair treatments.
Scarring alopecia: Hair loss resulting from scarring on the scalp due to infections, inflammation, or injury.
Common Causes of Hair Loss
Numerous factors contribute to hair loss, including genetic predisposition, hormonal imbalances, medical conditions, and lifestyle factors.  Some of the most common causes of hair loss include:
Heredity: Genetics plays a significant role in androgenetic alopecia, making it the most common cause of hair loss.
Hormonal changes: Hormonal fluctuations during pregnancy, menopause, or due to thyroid problems can trigger temporary or permanent hair loss.
Medications: Certain drugs, including chemotherapy, antidepressants, and blood pressure medications, can cause hair loss as a side effect.
Nutritional deficiencies: Lack of essential vitamins and minerals, particularly iron and protein, can lead to hair loss.
Stress: Physical or emotional stress can temporarily disrupt how the hair grows, leading to hair loss.
Various treatment options are available for hair loss, ranging from over-the-counter medications to surgical procedures.  As always, it is best to schedule a consultation with our dermatology team to determine the most suitable treatment for your specific type of hair loss.
Topical treatments: Minoxidil, an FDA-approved medication, can help slow hair loss and promote hair regrowth for some individuals.
Oral medications: Finasteride, a prescription drug, can be used to help prevent further hair loss in men with androgenetic alopecia.
Platelet-rich plasma (PRP) therapy: Injecting PRP into the scalp can help promote hair growth by stimulating dormant hair follicles.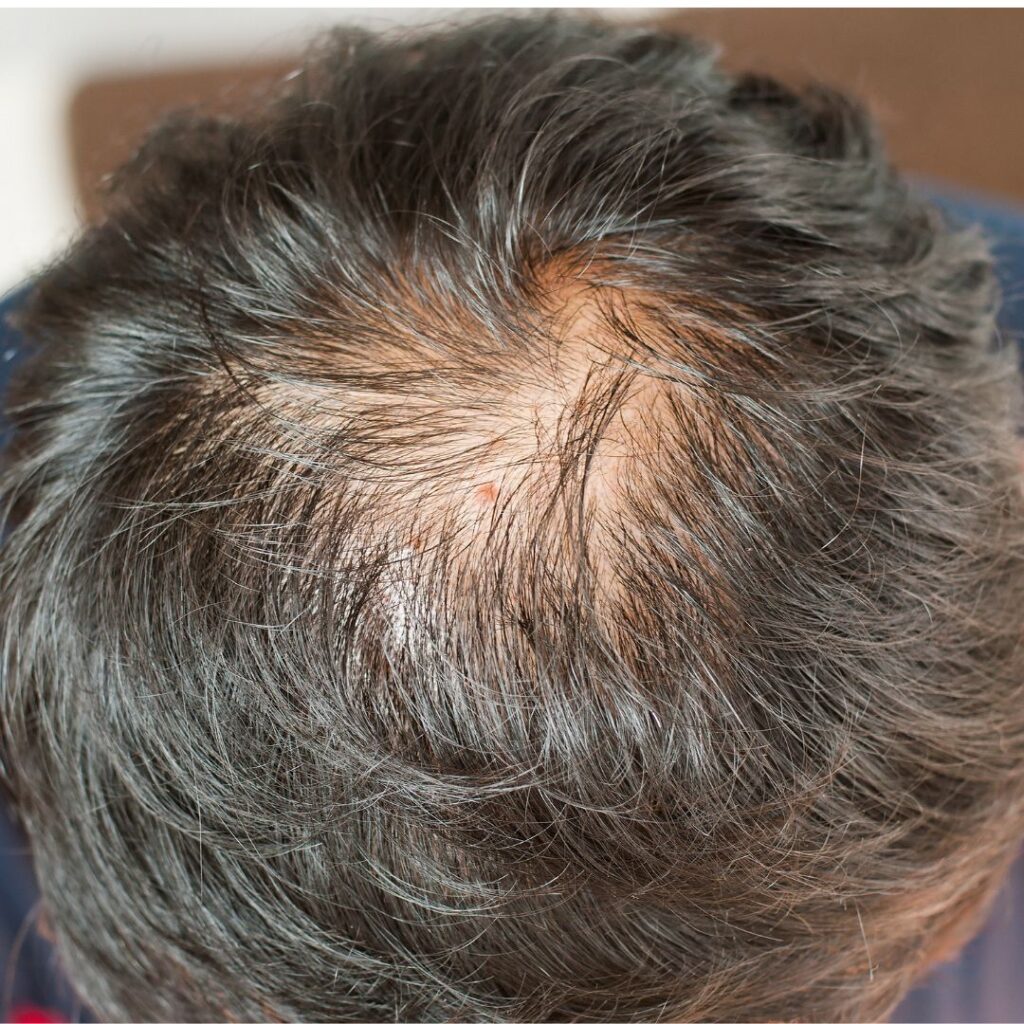 Expert Dermatology Care for the Entire Family

While not all forms of hair loss are preventable, adopting certain habits can help maintain healthy hair and minimize the risk of hair loss:
Follow a balanced diet: Ensure your diet includes essential nutrients, like proteins, vitamins, and minerals, to support healthy hair growth.
Be kind and gentle with your hair: Avoid excessive heat, chemicals, and tight hairstyles that can damage hair and cause breakage.
Manage stress: Engage in stress-reduction techniques, such as meditation, yoga, or exercise.
Contact Blue Ridge Dermatology Today
If you are suffering from hair loss, contact Blue Ridge Dermatology today to schedule an appointment with one of our dermatology experts. Our team will work with you to find the best option for treating your hair loss.